Veterinary
Lighting and Video for Veterinary Practices
Brandon Medical Equipment for Veterinary Practices
If you need examination lighting, minor surgery lighting and high-end surgery lighting with an integrated HD SDI camera inside and Symposia Surgical Video System for veterinary referral hospitals, Brandon Medical is the most suitable choice for your practice. We also provide mobile solutions suitable for buildings which cannot sustain the weight of a ceiling-mounted structure or customise such a structure to fit four light heads to illuminate two adjacent operating tables.
Perfect Light (HD- LED)
Brandon Medical offers the only surgical lighting range with near-perfect colour rendition across the full visible spectrum. It features the highest R9 colour rendition of any product on the market. Designed and manufactured in the UK, Brandon Medical has an award-winning team including research, development, and manufacturing.
Red Balance Controls
The light is optimised to enhance the visualisation of red tissue and has our unique Red Balance Control, which allows Surgeons to 'tune' the red content to match their own vision. Each individual's eyes have differing levels of red perception and this is shown to deteriorate as we get older. Our unique Red Balance Control allows surgeons to precisely adjust the amount of red light whilst not affecting the balance of other colours.
Unique 'Comfort Halo'
A contrast ratio of 160,000:1,000 Lux is quite extreme. The comfort halo is designed to reduce the Surgeon's eye strain that can result from their central vision being dominated by a very bright light whilst their peripheral vision is in low light. There are also benefits during endoscopic procedures during which the general lighting is normally turned off, with the halo providing soft, low-level illumination around the patient for the team to carry out non-surgical tasks.
Infection Control
Sealed to IP 54 (Degree of Ingress Protection)
The lamphead is sealed to IP 54 – providing protection against the ingress of liquids and particulates. This stops contaminants, including cleaning solutions from getting inside the lamphead enclosure.
No Exposed Fasteners
Exposed screw heads and similar fasteners are almost impossible to clean effectively if they become contaminated (e.g. blood splashes) so we've eliminated all of them from the light head.
Silver Ion Antimicrobial Technology
Biomaster antimicrobial additive is moulded into the plastic lamp head parts and 'Ultra Fresh' is incorporated in the lamp head paint. Both of these additives have anti-microbial properties.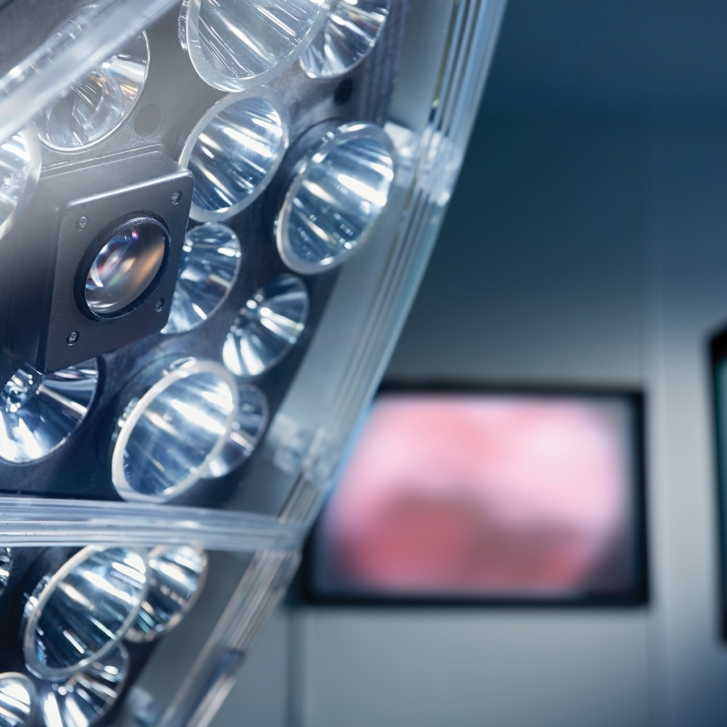 Fully integrated HD-SDI Camera "Inside"
Quasar® eLite can be personalised to include optional features such as HD Cameras that are fully embedded into the lamp head. The HD-SDI system produces outstanding picture quality on large monitors and provides a foundation for Brandon Medical's Symposia® systems.
Symposia® Surgical Video System
The Symposia® Surgical Video System system connects medical professionals to a range of Audio-Visual resources which can be accessed immediately from any location.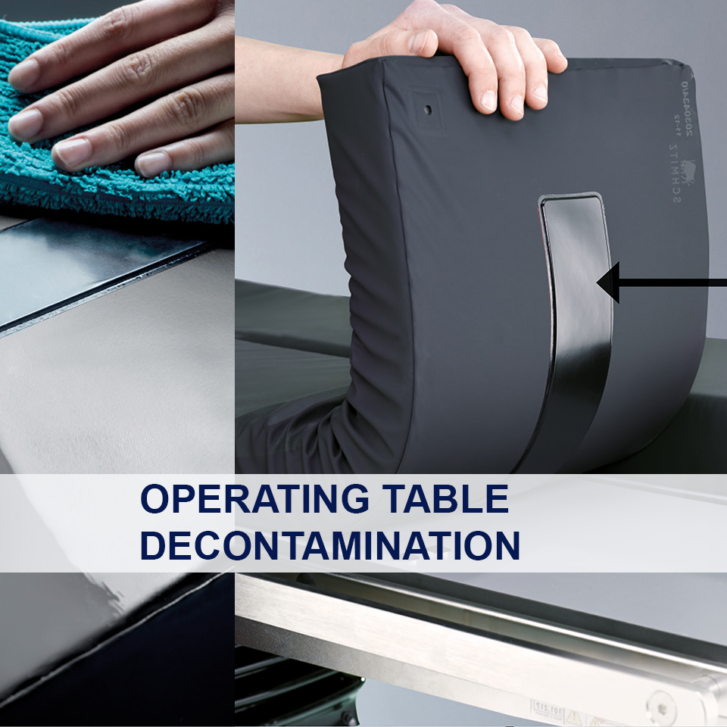 Latest Article
How can innovative operating table technology transform decontamination?
Hospitals face the challenge of preventing healthcare-associated infections (HCAIs) through compliance with infection prevention policies. Operating tables, which can contribute to secondary transmission, are commonly secured with hard-to-clean Velcro strips. The DIAMOND® operating table, which uses wipe-clean gel strips, offers an innovative solution to support infection prevention efforts. NHS recommendations for decontamination do not specify cleaning underneath operating table casters, and this area is often inaccessible. However, research suggests hospital floors are a source for pathogen dissemination, highlighting the potential importance of comprehensive decontamination efforts.
Read more