Double Security
All movements can also be performed manually by preselector lever and hydraulic foot pump, ensuring double security.
Hand Held Control
Hand-held control in "reverse mode" allows normal operation of the table in reverse positioning.
Memory Foam Pads
Prevents pressure ulcers and provides maximum patient comfort.
Disinfection-proof Gel Strips
Adhesive gel strips are easily sterilised, maintaining hygiene standards without constant replacement.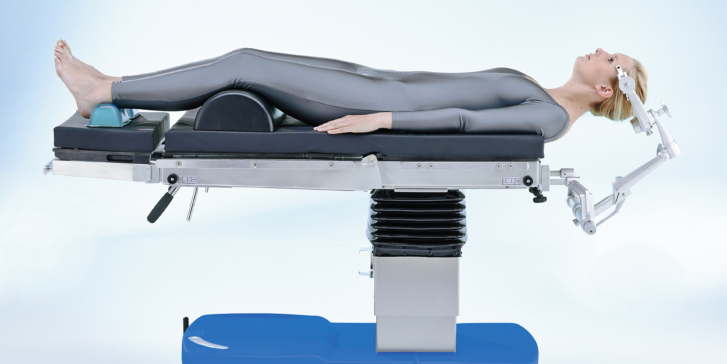 250kg Weight Capacity
An increased weight bearing capacity makes the Anteris table suitable for the vast majority of patients.
Choice of 3 or 4 Fully Powered Movements
Anteris 30 provides fully powered movements of High/Low, Lateral (left/right) and Trendelenburg/Reverse Trendelenburg positionings. Anteris 40 provides the same positioning, plus a fourth powered movement of the back section.
Longitudinal Shift (optional)
Flexibility in positioning of the table top, either to the left or right, allows for all operational procedures.
Kidney Bridge (optional)
Lifting 100mm from the bed, the unique Kidney Bridge caters for a variety of procedures.
Anteris Operating Table model 30
Three electro-hydraulic adjustments by means of hand-held control.
Height (Up/Down)
Tilt (Left/Right)
Trendelenburg and Reverse
Trendelenburg
All movements also manually controllable.
Anteris Operating Table model 40
Anteris 40 has an additional electro-hydraulic adjustment by means of hand-held control.
Back Section (Raise/Lower)
Movement also manually controllable.
X-ray Cassette Access
Continuous rails for X-ray cassette insertion.
Reverse Mode
"Reverse Mode" allows for normal operation of the table when the patient is reverse positioned. The hand-held unit can also be equipped with an optional "Return-to-zero" function.
Battery Level Indicator
The hand held controller includes a live indication of the level of battery charge.
Foot Control (Optional)
Allows for full control of all electrical table functions.
Covered Castors
Castors have protective splash caps to encourage hygienic practice.
5 Wheel Mobile Base
Four easy-glide double castors with cap. A central brake and spring loaded fifth, directional castor in the centre of the base allows for easy movement in confined spaces.
Quickly Removable Head and Leg Plates
One-button removal and attachment of head and leg plates makes for simple patient positioning in reverse mode.
Battery Charger
Removable charger for electro-hydraulic tables. Damage resistant whilst remaining small and discreet.
Download the Anteris brochure for a full list of specifications, options and information.