Diamond ® An operating table in a class of its own
The DIAMOND® operating table sets the standard for safety, ergonomics, reliability, and functionality.
DIAMOND® Operating Table meet the demands of every surgical discipline in the operating room.
The Diamond operating table is designed to meet the needs of all surgical disciplines. Its advanced features ensure safe and precise handling, and it is equipped with the latest technology for future-proof use. The intuitive pre-release feature and flexible loading capacity enhance workflow. With an innovative design, this table offers unrestricted functionality and optimal access. Accessories are available to customize the table for your workplace.
Diamond® Operating table:Trauma and Ortho, Spinal, Imaging, Gynaecology
Unrestricted Functionality
Trendelenburg and lateral tilt available in any position
Precise, accurate patient positioning due to adjustable soft start function
Programmable memory positions support complex positioning and save time
Reliability and Safety
Minimised downtime in operating the table due to well thought-out backup systems
Dual energy system: 2 independent battery blocks supply uninterrupted energy for approx. 2 weeks or average 100 cases
Mains operation option
Detachable additional emergency hand control unit
Manual-hydraulic emergency backup ensures 24/7 functionality of the table even without power and in case of control failures
Unrivalled Ergonomics
Pre-release button mechanism and integrated ergonomic grips make mounting and removing accessories effortless for staff
Extra-large casters and the optional 5th caster provide high manoeuvrability
Generous height adjustment range allows optimal access to the surgical field in both standing and sitting surgery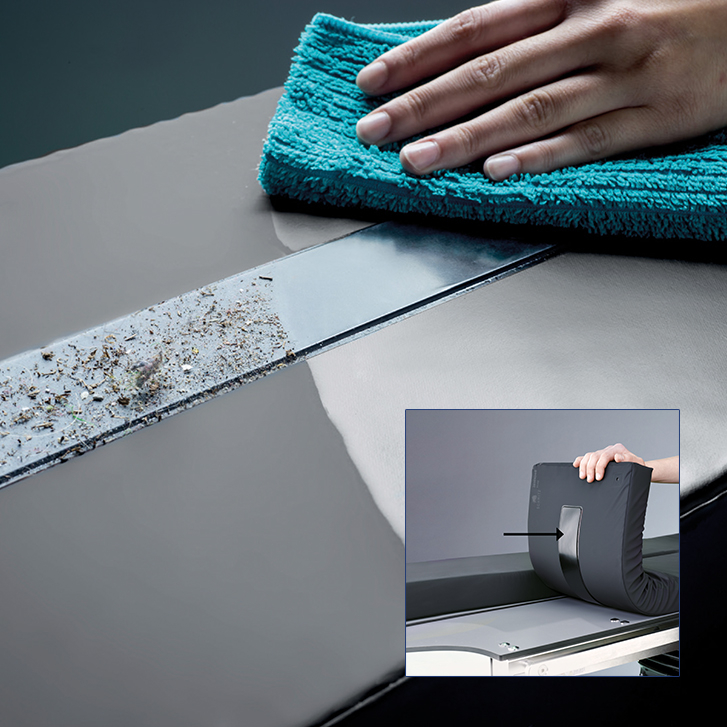 Infection Prevention
Diamond Operating table boasts an innovative approach to invention prevention
Unique wipe-clean gel strips to secure the mattress pads (no Velcro®)
Design features rounded screw heads and flush-mounted buttons to eliminate dirt or fluid accumulation
Optional splash guard serves as protection in fluid-intensive surgeries.
The cleaning shuttle accessory (unique to the DIAMOND table) allows easy access to the underside of the table for complete 'under the caster and chassis' decontamination
Connectivity and Future-Proof Software
Wireless operation via Bluetooth® eliminates signal interference
In-house developed electronic parts and software
Future proof software including updates and upgrades
Motion-activated handset
DIAMOND operating table sensor system
Collision detection helps to prevent accidental crashes
The self-diagnostic system allows easy diagnosis thanks to displayed error codes without the need for external equipment