Symposia® Operating Theatre Cameras
HD PTZ Dome Camera Sony (HDMI)
Ceiling mounted PTZ colour camera for educational and telemedicine applications, with powerful 30x optical zoom and high frame rate 60fps.
The sensitive Exmor™ CMOS sensor assures detail-packed Full HD pictures with a high horizontal resolution. High frame rate operation at 60fps delivers more natural, blur-free reproduction of moving subjects.
HD PTZ Dome Camera AVER (HDMI)
Available in white or grey and equipped versatile functions to suite every training room and hospital.
Shutter Speed
1/1s – 1/32,000s
Exposure Control
Auto, Manual, Priority AE (Shutter, IRIS), BLC
White Balance
Auto / Indoor / Outdoor / One-push / Manual (2500 – 10000)
Optical Zoom
30X
Digital Zoom
12X
4K operating camera*
The 4K Wireless Camera system consists of a HD-Camera with integrated transmission module and a Receiver-Unit with a HDMI-Interface (DVI-Connector) for connecting a monitor or a video transmission system. The camera functions are controlled by an infrared remote control, whilst positioning of the camera is achieved via manual manipulation utilising either the removable sterilizable handle or camera shroud.  The IR-Receiver is integrated in the Receiver unit.
*The camera requires a dedicated arm on the ceiling operating lights structure
Digital Integration
Brandon Medical's unique i2i integration technology provides enhanced wall-mounted controls and integration to third-party OR systems.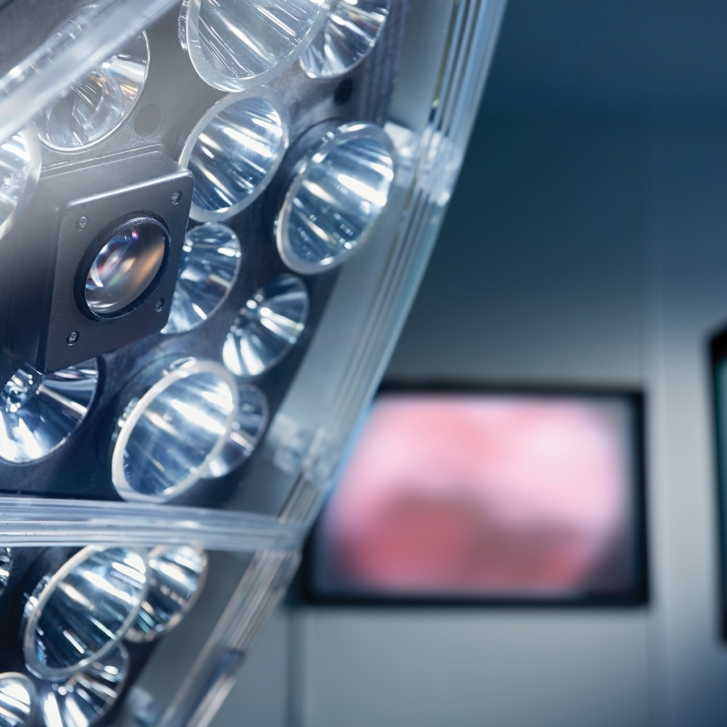 HD600 -2 Camera 'Inside' Operating Theatre Light Qe6H
The HD600 camera is securely mounted inside the light enclosure, improving infection control and
reducing system costs.
HD 300 Camera 'Inside' Operating Theatre Light Qe3H
Following the same principle as the HD600-2 camera, the HD300 camera is also mounted inside the light enclosure.