Why Quasar eLite?
High-Performance Surgical Lighting
Designed and manufactured in the United Kingdom, the Quasar eLite range of operating theatre lamps impresses clinical staff every time and it has with the best cost-quality ratio worldwide.
British Design & Technology
Quasar® eLite has been designed by Brandon Medical in the United Kingdom, with inputs from leading product designers and practicing surgeons. Quasar® eLite incorporates collaborative research and technology outputs funded by the European Commission and performed by world-renowned technology partners.
Made in the UK, Supplied Worldwide
Quasar® eLite is produced in our state-of-the-art facility in Leeds, England, by a team with over 70 years experience in manufacturing surgical lights and supplying them to customers around the world.
Near Perfect Colour Rendition with unique Red Balance Control
High Colour Rendition across the Full Visible Spectrum
Near perfect colour rendition across the full visible spectrum.  Ra is 95 and R9 is 95.  All the "R" Numbers are published in many of our brochures.  Uses patented HD-LED technology.
Red Balance Controls
The light is optimised to enhance the visualisation of red tissue and has our unique Red Balance Control, which allows Surgeons to 'tune' the red content to match their own vision. Each individual's eyes have differing levels of red perception and this is shown to deteriorate as we get older. Our unique Red Balance Control allows surgeons to precisely adjust the amount of red light whilst not affecting the balance of other colours.
'Fat Beam' Technology
Fat Beam provides broad, evenly illuminated light fields, offering a lot more flexibility in positioning the light versus a small, tight spot which has to be placed very precisely. As a result, the lights don't have to be moved as much, as they can fully illuminate the whole of the surgical area and even small movements of the patient won't move the patient out of the illuminated area. Large wound sites are fully illuminated.
Unique 'Comfort Halo'
A contrast ratio of 160,000:1,000 Lux is quite extreme. The comfort halo is designed to reduce the Surgeon's eye strain that can result from their central vision being dominated by a very bright light whilst their peripheral vision is in low light. There are also benefits during endoscopic procedures during which the general lighting is normally turned off, with the halo providing soft, low level illumination around the patient for the team to carry out non-surgical tasks.
Unique Design to Minimise Infections
No Exposed Fasteners
Exposed screw heads and similar fasteners are almost impossible to clean effectively if they become contaminated (e.g. blood splashes) so we've eliminated all of them from the light head.
Silver Ion Antimicrobial Technology
Biomaster antimicrobial additive is moulded into the plastic lamp head parts and 'Ultra Fresh' is incorporated in the lamp head paint. Both of these additives have anti-microbial properties.
Premium quality movement and manoeuvrability
Ergonomics have been a major factor in the design process of Quasar® eLite resulting in a surgery light with unparalleled user benefits:
Light head edges form 'virtual handles'.
Low-weight light head allows easy positioning.
Six rotations light head.
Needle roller bearings suspension system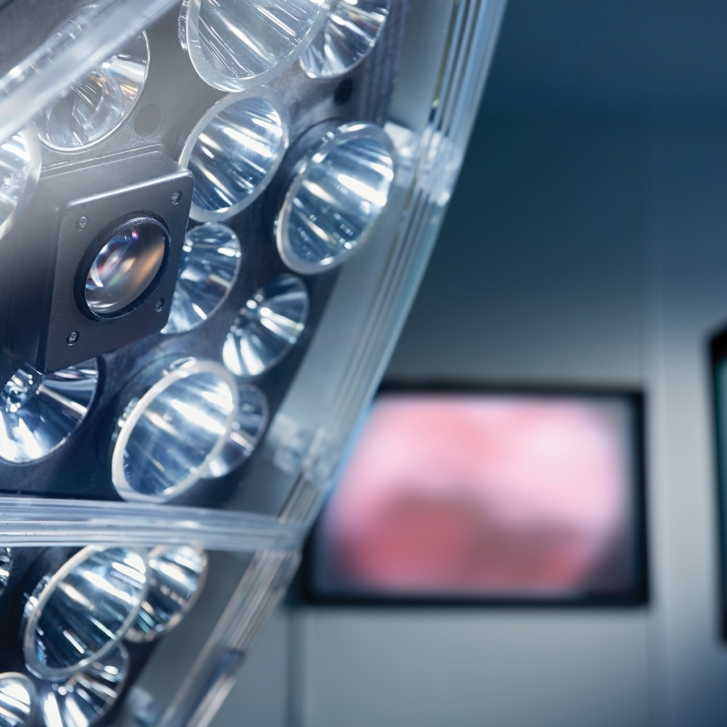 Fully integrated HD-SDI Camera "Inside"
Quasar® eLite can be personalised to include optional features such as HD Cameras that are fully embedded into the lamp head. The HD-SDI system produces outstanding picture quality on large monitors and provides a foundation for Brandon Medical's Symposia® systems.