Symposia® PACS
Brandon Medical Symposia® PACS Workstation: a gateway to SMART operating theatres
Why choose Symposia® PACS as your preffered picture archiving and communication system?
A reliable single-screen DICOM clinical workstation for Group 1 and 2 locations.
PACS stands for Picture Archiving and Communication System, which stores and digitally transmits electronic images and medical reports. PACS workstations consist of a display screen, computer and peripherals, such as a keyboard and touchpad. The Brandon Medical PACS workstations are kiosk-style computers and displays that are used in operating rooms to access patient records and diagnostic images. The Brandon Medical PACS Workstation is a single-screen, DICOM review-grade clinical workstation. The workstation is designed to be highly reliable and suit the requirements of the clinical environment, specifically Group 1 and Group 2 locations.
Symposia PACS isn't just a workstation; it's a gateway to SMART operating theatres, offering various clinical benefits:
Improved Patient Safety
With Symposia PACS, patient images are safeguarded in a secure, controlled environment, protecting privacy and preventing unauthorised access.
Improved Efficiency
Instant access to patient images streamlines operations in the operating theatre.
Increased Accuracy
High-quality images ensure informed treatment decisions, fostering better patient care.
Enhanced Communication
Access to a centralised location for patient images simplifies collaboration among healthcare professionals, promoting seamless teamwork in patient care.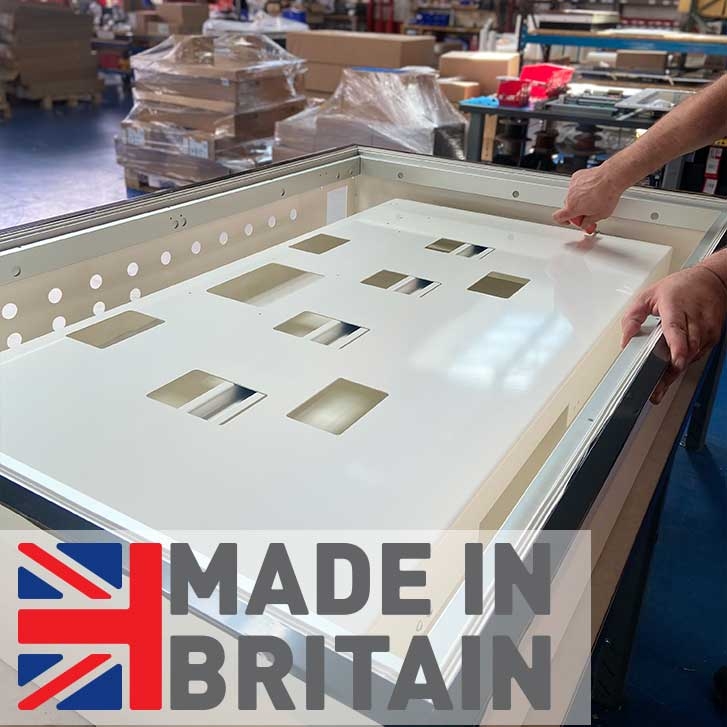 Made in Britain
In the heart of Britain, where innovation meets excellence, comes Symposia PACS, designed and expertly manufactured by Brandon Medical.
Ease of installation
The Brandon Medical PACS Workstations have been designed to make installation as simple as possible and to suit typical project requirements. The back box and hardware can be delivered in advance to suit project schedules for electrical wiring. A protective cover is temporarily installed. The display screen can be then installed at a later date, when any nearby works are finished and the PACS Workstation is ready for commissioning.
Symposia® Audio Video integration
There may be training or collaboration scenarios where displaying the camera feed from the operating lamp or a laparoscope on the large PACS screen is useful. Integration with Symposia Medical Audio Video Systems means that any Audio Video source can be displayed on the large PACS screen, provided you choose the video switch option.
Symposia integration can also be used to convert the PACS workstation into an AV source (requires Symposia Integrated OR system). This can be useful when a surgeon wants to see PACS images on a display screen positioned directly above the patient's field of view.
Product family: delivering a wall of knowledge
The PACS systems seamlessly match the Medicontrol iTCP intelligent theatre control panels range. This allows Brandon to offer a unified solution to create a wall of knowledge in the operating theatre, a gateway to SMART operating rooms.
Image quality
The PACS display screen supports high-resolution images with unhindered readability, even when viewed in high ambient light. The anti-reflective, high haze display minimises reflections from other light sources.
Reliability
The Brandon Medical PACS Workstation is constructed from high-quality components, giving the user confidence in reliable operation. The industrial-grade PC is an embedded system powered by high-quality processors. The PC is fanless to maximise reliability. The display screen is designed for 24/7 continuous viewing applications. Both the display and PC have been selected based on long-term supply availability. This allows Brandon to ensure that faulty components can be replaced for an extended period. The keyboards are highly robust and easily stand up to everyday knocks and scrapes.
Brandon Medical's panels are available in 4 sizes, with 2 separate designs.
Our iPACS Systems follow a similar design philosophy to our iTCP system. The screen size options are 27" and 32", both HD.
Our gPACS Systems have a glass front on them, for clear viewing and ease of cleaning. These can be either 43" or 55" with 4K resolution.
For theatres with existing or new AV Integration Systems, Brandon Medical are able to integrate a video switch that allows clinical staff, at the press of a button, to switch between PACS information and surgical or room video.
Brandon Medical's PACS Panels are supplied without a specific PACS software but with hardware that will allow any modern PACS software to be installed by the hospital IT team and utilised by clinical staff.
| | |
| --- | --- |
| gPACS | |
| gPAC43L-PC0 | Glass Facia, PACS 43" Landscape, Dicom Preset Screens, with Single PC |
| gPAC43L-P50 | Glass Facia, PACS 43" Landscape, Dicom Preset Screens, with Single i5 PC |
| gPAC43L--P5S | Glass Facia, PACS 43" Landscape, Dicom Preset Screens, i5 PC & Video Switch |
| gPAC55L--PC0 | Glass Facia, PACS 55"Landscape, Dicom Preset Screens, with Single PC |
| gPAC55L--P50 | Glass Facia, PACS 55" Landscape, Dicom Preset Screens, with Single i5 PC |
| gPAC55L--P5S | Glass Facia, PACS 55" Landscape, Dicom Preset Screens, i5 PC & Video Switch |
| iPACS | |
| iPAC27L-PC0 | iTCP Style, PACS 27" Landscape, Dicom Preset Screens, with Single PC |
| iPAC32L-PC0 | iTCP Style, PACS 32" Landscape, Dicom Preset Screens, with Single PC |
| hPACS | |
| hTCPPF22T27LPC0 | Hybrid, Control Panel, Portrait, Front Access, 22" Screen, Time server integrated clocks. 27" PACS Station |
| hTCPPF22T27LPCi | Hybrid, Control Panel, Portrait, Front Access, 22" Screen, Time server integrated clocks. 27" PACS Station & i2i Brandon light controls |
| hTCPPF22T32LPC0 | Hybrid, Control Panel, Portrait, Front Access, 22" Screen, Time server integrated clocks. 32" PACS Station |
| hTCPPF22T32LPCi | Hybrid, Control Panel, Portrait, Front Access, 22" Screen, Time server integrated clocks. 32" PACS Station & i2i Brandon light controls |