Brandon Medical programme of events
European Healthcare Design 14-18 September 2020
Smart Operating Theatres
Conventional Becomes Smart: The conventional operating theatre has changed already. More flexibility is required, alongside with integration of various surgical equipment which has been driven from the clinical needs of the modern hospital.
The operating theatre has been dramatically changed: Minimally invasive surgery means that more equipment has to be integrated and controlled than before, with complex audio-video solutions required, additional to Medical IT, UPS, gases, specialised carts etc.
Health Estates Managers and Engineers are facing challenges in integrating the new technologies whilst having to build in the project efficiencies such as flexible use of operating theatres, instead of fixed, dedicated specialisms, all the while having to implement compliance such as HTM 06-01 in the UK and other current regulatory and recommendatory requirements, which continuously and rapidly change. The sheer number of variables increases the risk associated with any operating theatre project.
SESSION 17 Designing for critical care and surgery
Tuesday 15 September 2020 15.00 Present-day challenges of integration and control for the operating theatres of the future
Adrian Hall, Chief operating officer, Brandon Medical Co, UK
Smart Operating Theatres and ICU: Design and Build Practicalities
Brandon Medical is inviting to attend the live streaming series of events during which
our team will present a series of four presentations from our headquarters demonstration suite:
Monday 14 September 2020 at 13.00: Bringing Smart Integration into the Operating Room 
Tuesday 15 September 2020 at12:00: New concepts in the ICU at Kings College University Hospital
Wednesday 16 September 2020 at 14:00: Deploying Smart integration and 4K AV in the Operating Room
Thursday 17 September 2020 at 15:00: Working Collaboratively to Deliver Better Hospitals
Please visit our booth at the above dates and times as per your interests.
Expertise
For over 70 years, Brandon Medical has provided healthcare professionals with reliable, high-quality, and affordable medical equipment packages for operating theatres and critical care. Continuous investment in our products allows us to meet the ever-changing needs of our customers, the healthcare industry and the patients it serves.
We are acknowledged experts in medical lighting, medical power & control systems, medical video, and medical AV systems with unique expertise in providing integrated solutions.
We are one of the leading manufacturers of high tech medical lighting, and our equipment can be found in surgeries, clinics, and hospitals throughout the world supported by an extensive distributor network.
Equipment
Our UK manufactured operating theatre lamps have near-perfect colour rendition, balanced arm systems for ease of movement, and use HD-LED technology which emits a brilliant cold light to reduce heat generation. We also have a range of mobile operating theatre lights. Specialist surgical and examination lighting systems are available, with unique features designed to suit the field.
In addition to healthcare and hospital lighting technology, we also manufacture operating theatre control panels and design solutions for medical AV systems, medical supply pendants, as well as isolated power systems and uninterruptible power systems.
Resources and technical memoranda for the facilities required for in-patient operating theatres in an acute general hospital.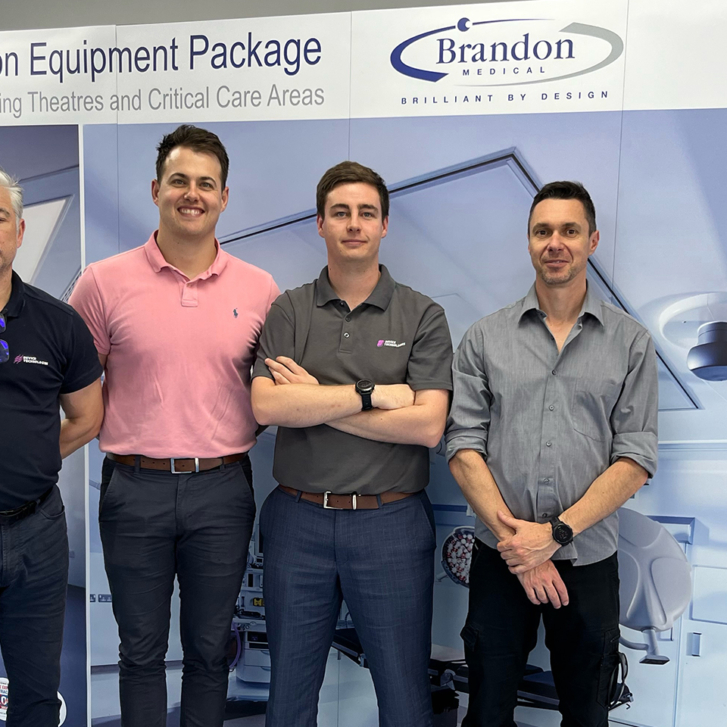 Latest Article
Innovative Partnership between Brandon Medical, UK, and Device Technologies, Australia, Set to Transform Healthcare in the Asia Pacific Region
Leeds, UK - November 15, 2023 - Brandon Medical, a distinguished UK-based medical technology company, and Device Technologies, a leading medical solutions provider across Asia Pacific, proudly announce their collaborative venture to introduce cutting-edge medical equipment to Australia, New Zealand, and South East Asia. This strategic partnership, commencing in November 2023, marks a significant step towards revolutionising patient care environments and empowering healthcare professionals in the Asia Pacific region.
Read more